Do you want to stock Freshemp™ jackets in your shop, or website? Well you've come to the right place! We're proud to be the UK distributor for Freshemp™.

These eco-friendly hemp jackets are perfect for the colder months! Whether you're skiing/snowboarding, out for a few drinks on a cold night or taking a winter walk with the family, these jackets are guaranteed to keep you warm and comfortable with a clear conscience. Packed with planet-friendly technologies and made using low-impact materials, these winter coats are perfect for the eco-conscious individual who wants to look great while doing good for the planet.
From the creators of Hoodlamb and Hemp Works, these Freshemp™ jackets hark back to the classic design, much-loved since their original inception in 1993. Click in to the product pages to find out more about the company history, along with detailed information about the features of these mens and womens jackets.
This Season's Freshemp™ Jackets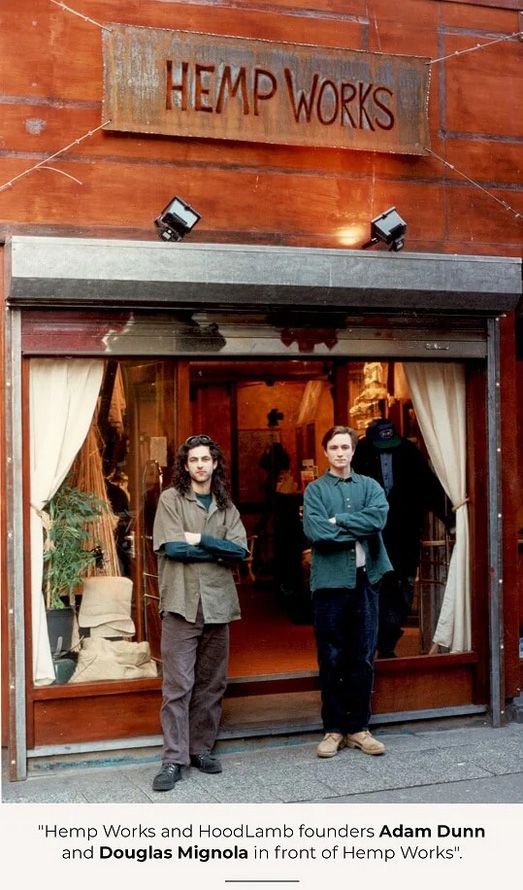 In 1993 co-founders Adam Dunn (from New York) and Douglas Mignola (from San Francisco) met in Amsterdam and came up with a vision. Their mission? To make you feel good on the inside, while looking great on the outside. They wanted to make a quality item for everyday wear, while remaining committed to protecting the environment. Their goal is to make sustainable clothing using pioneering techniques and eco-friendly materials.
All of their effort and time goes into listening to customer's feedback and working closely with their factories. With all these insights, they have turned an eco-friendly item into a must-have piece of clothing.
Hemp Works was the original company, later to become "Hoodlamb", and now relaunched under the name Freshemp™.
The Freshemp™ mission is the same as when the owners first created "Hemp Works" in 1993; to provide fashionable, comfortable hemp jackets using eco-friendly materials and manufacturing methods for the good of the planet, and the people!
Their jackets are a perfect example of "form follows function", the jackets are designed to be practical, hard-wearing and long-lasting.
Hemp
The hemp is organically grown and sourced directly from farms where it is hand sowed and harvested, thereby creating some of the best hemp fiber in the world. After harvest, the raw fiber is spun into the fine, strong hemp thread that is used to weave their custom, sustainable fabrics.
Dyes
All of their fabric dyes are fibre reactive. They hand-select each dye to achieve the best possible colour-fastness while using less than 50% the water required for conventional dyes.
Water-Resistant Coating
Their environmentally friendly water-resistant coating is made from natural cellulose derived from the inner core of the hemp stalk. It shows outstanding performance in wet, windy or cold conditions.
Vegan
Freshemp™ clothing and accessories are made from cruelty-free sources and are naturally free of harsh chemicals and toxins that can harm the skin. No animal products were used in the making of their collection.
OCS Certified Cotton
Their shell and fleece fabrics contain organic approved yarns and OCS Certified cotton. All source materials were grown without insecticides, herbicides or fungicides, and for this reason their products are allergen free, breathable and very durable.
Recycled Materials
Thermore® EcoDown® - The only thermal insulation made from 100% recycled fibres, offers excellent warmth and comfort. Each Freshemp™ jacket insulated with Thermore EcoDown recycles up to 10 bottles and saves enough energy to keep a 10W light on for 100 hours.
A Retrospective in Images
Take a look back at some historical pictures from the (almost) 30 year journey that resulted in the Freshemp jackets that you see here today.
Freshemp™ Women's Hemp Jacket

The original hemp jackets are back! If you liked Hoodlamb Jackets, you're going to love these Freshemp jackets! The original creators of Hoodlamb are back with their classic hemp jacket design. These are the same guys that started Hemp Works in Amsterdam, where the jackets originated in 1993. It's the same high quality design, eco-friendly materials, and ethical mindset that people have loved for almost 30 years, now back under the new brand name Freshemp!

Learn More

Freshemp™ Men's Hemp Jacket

The original hemp jackets are back! If you liked Hoodlamb Jackets, you're going to love these Freshemp jackets! The original creators of Hoodlamb are back with their classic hemp jacket design. These are the same guys that started Hemp Works in Amsterdam, where the jackets originated in 1993. It's the same high quality design, eco-friendly materials, and ethical mindset that people have loved for almost 30 years, now back under the new brand name Freshemp!

Learn More