We only sell the best quality premium organic hemp foods here. Since 1998 we have been selling organic hemp seeds and oil to the world. We believe that hemp seeds are key to a balanced and nutritionally rich diet, and that organic farming is the only sustainable path to a green new sustainable future.
We are pioneers in hemp, we've been in this business for years. We are the oldest organic hemp foods company in the UK, and we were the first to bring hemp protein powder to the UK! We have been ahead of the curve the entire way with our organic hemp seeds and hemp seed oil. We've spent years, no, decades researching the best hemp seed varieties and refining our products to bring you what we believe to be the best hemp seeds and oil on the market today.
Whether it's our whole hemp seeds, hempseed oil, hulled hemp seeds, hemp protein powder, flour, pasta or any of our other foods, you can be confident that you are getting the best product that money can buy. To go a step further because first and foremost we are an environmental company we have developed a packaging range that focuses on sustainability and eco-friendliness as the top priority. We work hard to ensure that our packaging is as sustainable and planet friendly as possible using materials such as biodegradable compostable kraft paper and corn starch pouches, plastic-free plant cellulose bags and BPA-free fully recyclable bottles. Our goal is to make this world a better place through hemp, and that informs every decision that we make.
Browse our range of hemp foods below and discover more about the wonderful benefits of hemp seeds!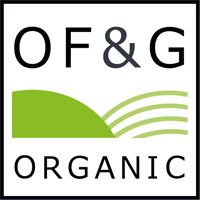 Our organic hemp foods are certified by "Organic Farmers and Growers"
OF&G certify more than half of UK organic land & provide support, information and licensing to Britain's top organic food businesses