Hempiness Organic Hemp Body Oil
Hemp seed oil is an oil that is non-greasy and works perfectly as a moisturising compound with excellent moisture balancing properties. 100ml bottle.
100% MONEY
BACK GUARANTEE.
Using Hemp seed oil is a great way to achieve soft, smooth and hydrated skin. Hemp seed oil prevents moisture loss on a physiological level and doesn't merely ""coat"" the skin like other oils. It contains the ideal ratio of Omega's 3 & 6. Hemp so closely matches our own skins lipids, it is able to penetrate inside our cells and lubricate the surface between them, thus bringing the EFA's into the body. For this reason EFA's have been proven to play a preventative role in skin aging and a healthy moisture balance.
Thanks to its high amount of polyunsaturated essential fatty acids (linoleic and linolenic acids), Hemp seed oil has excellent anti-inflammatory qualities. It can help to relieve conditions such as acne, psoriasis and eczema as well as healing skin lesions, balancing dry skin and combating skin inflammations.
Hemp is also the only plant oil containing Vitamin D, which is necessary for Calcium absorption and especially useful to vegans. Hemp seed oil contains 57% linoleic (LA) and 19% linolenic (LNA) acids and antioxidants in the form of vitamin E and carotene. Phytosterols, phospholipids, as well as a number of minerals, including calcium, magnesium, sulphur, potassium and phosphorus are also found in the oil.
100ml.
Ingredients:
Pure Organic Cold Pressed Hempseed Oil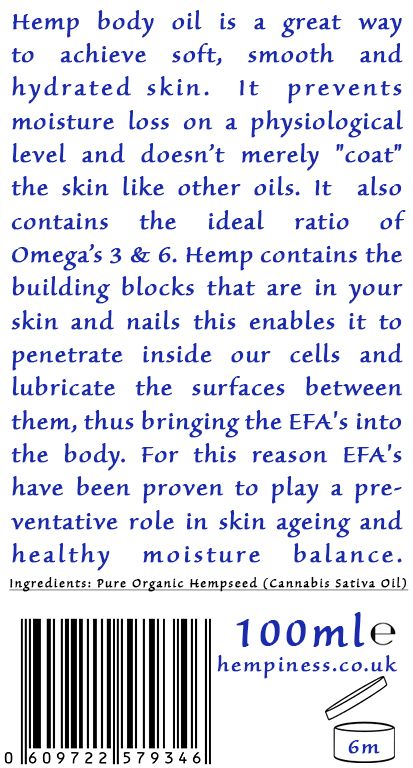 Packaging Information
Bottle: Glass bottle, with HDPE plastic lid. Made with 100% recyclable materials.
Labels: Made from matt-white uncoated wood-free paper, with acrylic based, pressure sensitive adhesive.
Customers who bought this item also bought...