Hempiness Organic Premium Shelled (Hulled) Hempseeds
We just love our Premium Organic hulled hemp seeds! They're grown within Europe and packaged right here in the UK and are completely raw and untreated, creating a product that is both great tasting and great value.
100% MONEY
BACK GUARANTEE.
The hulling process simply means that they've had their shell removed to reveal the softer inner part of the seed, making them brilliant for use in the kitchen. Also sometimes called hemp nuggets, hemp nuts, or hemp hearts, they have a beautiful rich and nutty flavour - a bit like a cross between a cashew nut and a sesame seed - which is super versatile and great for a range of dishes, from sprinkling over salads, mixing into yoghurt, or even eating on their own as a snack.
As well as their amazing taste, we love our hulled hemp seeds for their unrivalled health benefits; they're a high-quality, complete protein (meaning they contain all 9 essential amino acids in ideal proportions), and have high levels of magnesium, zinc, iron, phosphorus and calcium, making them a great nutritional boost for any meal. We also love that they're packed with Omegas 3, 6 and 9 and contain Gamma Linolenic Acid (GLA) which research suggests can combat arthritis, eczema and PMS. Because our hulled hemp is completely raw, the enzymes are kept alive in order to ensure maximum healthfulness of the product. Our hulled hemp seeds have the absolute highest nutritional profile of any on the market, so you know you'll be getting the best when you order from us!
In keeping with our eco-conscious values, our hulled hemp seeds are sealed inside an environmentally sustainable omnidegradable craft paper pouch, so the earth will love them just as much as your body will.
This product is entirely free from gluten, soy, lactose, cholesterol and GMO ingredients too, and is Kosher and Halal friendly.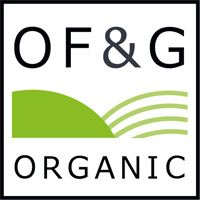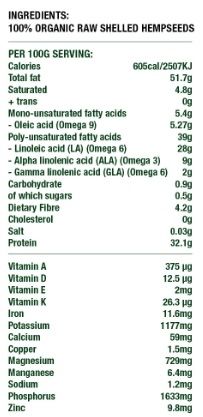 NUTRITION AND HEALTH CLAIMS MADE ON PRODUCT
according to (EC) No 1924/2006 and (EU) No 432/2012
Product is: 1) Sugar-free, 2) Very low in salt, 3) High in fibre, 4) High in protein, 5) High in vitamin A, 6) High in vitamin D, 7) Source of vitamin E, 8) High in omega-3 fatty acids, 9) High in polyunsaturated fat, 10) High in unsaturated fat.
- Protein contributes to a growth in muscle mass and the maintenance of muscle mass and normal bones.
- Alpha-linolenic acid / Linoleic acid contributes to themaintenanceyof normal blood cholesterol levels. [The beneficial effect is obtained with a daily intake of 2g ALA / 10g of LA; MUFA and PUFA are unsaturated fats]
- Reducing consumption of sodium contributes to the maintenance of normal blood pressure.
- Vitamin A contributes to normal iron metabolism, the maintenance of normal mucous membranes, normal skin and normal vision, the normal function of the immune system and it has a role in the process of cell specialisation.
- Vitamin D contributes to normal absorption/utilisation of calcium and phosphorus, normal blood calcium levels, the normal function of the immune system, the maintenance of normal bones, muscle function antl normal teeth and it has a role in the process of cell division.
- Vitamin E contributes to the protection of cells from oxidative stress.
FATTY ACIDS

per 100g of total fat

omega-3 acids

19.1%

omega-6 acids

60.07%

omega-9 acids

10%

C 16:0 palmitic acid

5.3%

C 18:0 stearic acid

2.6%

C 18:1 oleic acid (cis isomer)

10%

C 18:2 linoleic acid

56%

C 18:3 alfa-linolenic acid

19.1%

C 18:3 gamma-linolenic acid

3.99%

C 20:0 arachidic acid

0.86%

C 20:1 gadoleinic acid

0.39%

C 20:2 eicosandienoic acid

0.08%

C 22:0 behenic acid

0.32%

C 22:1 erucic acid

n.d.

C 22:2 docosadeinoic acid

n.d.
Packaging Information
250g and 500g Pouches: Plastic-free and compostable. Made from kraft paper and corn starch. Zip-lock for easy resealing.
1kg Pouch: Eco kraft pouch, foil lined for optimal freshness. Recyclable outer. Zip-lock for easy resealing.
2.5kg Pouch: Omnidegradable (breaks down in any environment) kraft paper pouch. Compostable, breaks down leaving no microplastics. Zip-lock for easy resealing.
Labels: Made from matt-white uncoated wood-free paper, with acrylic based, pressure sensitive adhesive.