Hempiness Organic Premium Raw Hemp Protein Powder (36% Protein)
Our Premium Organic Hemp Protein Powder is a packed with nutrition. This version has 36% protein content along with naturally occurring vitamins and minerals, making it ideal for regular use as a sport supplement, or simply to bump up daily protein intake.
100% MONEY
BACK GUARANTEE.
We've taken every step to make sure that this product is of the absolute highest quality for your consumption. Grown in the EU and packed within the UK, our Hemp Protein is made from the healthiest hemp variety on the planet, so you can be sure that you're fuelling your body with the best.
Just like our other premium hemp products, this protein powder has a wealth of health properties that we're sure you'll love. It is a complete protein (meaning that is contains all 9 essential amino acids in ideal proportions), making it a great choice for vegetarian and vegan diets, and has high levels of magnesium, zinc, iron, phosphorus and calcium. We also love that it's jam-packed with Omegas 3, 6 and 9 and contain Gamma Linolenic Acid (GLA) which research suggests can combat arthritis, eczema and PMS. Because it's completely raw and cold-pressed, the enzymes are kept alive in order to ensure maximum healthfulness of the product too!
Here's what you get in one serving (32g):
• Over 25% RDA for 9 vitamins and minerals - B Vitamins, iron, copper, folate, magnesium, manganese, phosphorus and zinc
• 11g of high quality, easily digestible protein
• 11g of fibre
Did you know that hemp actually contains more protein than meat, fish, poultry and dairy and is more easily digested too? No need to stick to your old protein sources, when this hemp protein powder can offer so much in addition! We also find that our Hemp Protein Powder produces less bloating than soy or dairy proteins.
Our Hemp Protein Powder is a fantastic choice for those looking to eat a lower carbohydrate diet too. With only 4.7g per 100g, it's a super low-carb option that can be used to pair with flours in the baking process in order to lower carbohydrate content and provide a super-boost of protein.
This product is entirely free from gluten, soy, lactose, cholesterol, hexane, pesticides and herbicides, additives and preservatives, and GMO ingredients too. It's also Kosher and Halal friendly.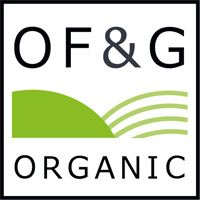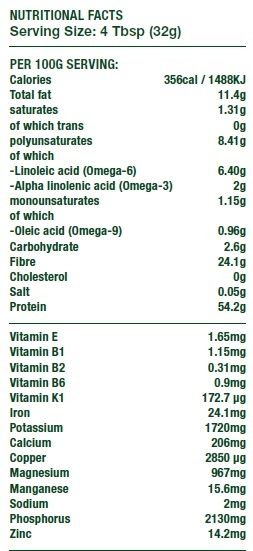 NUTRITION AND HEALTH CLAIMS MADE ON PRODUCT
according to (EC) No 1924/2006 and (EU) No 432/2012
Product is: 1) Low in sugar, 2) Very low in salt, 3) High in fibre, 4) High in protein, 5) High in vitamin D, 6) High in vitamin E, 7) Source of omega-3 fatty acids, 8) High in unsaturated fat.
- Protein contributes to a growth in muscle mass and the maintenance of muscle mass and normal bones.
- Alpha-linolenic acid / Linoleic acid / Replacing saturated fats with unsaturated fats in the diet contributes to the maintenance of normal blood cholesterol levels [The beneficial effect is obtained with a daily intake of: 2 g of ALA / 10 g of LA; MUFA and PUFA are unsaturated fats; Oleic acid is an unsaturated fat].
- Reducing consumption of sodium contributes to the maintenance of normal blood pressure.
- Vitamin D contributes to normal absorption/utilisation of calcium and phosphorus, normal blood calcium levels, the normal function of the immune system, the maintenance of normal bones, muscle function and normal teeth and it has a role in the process of cell division.
- Vitamin E contributes to the protection of cells from oxidative stress.
FATTY ACIDS

per 100g of total fat

omega-3 acids

22.6%

omega-6 acids

54.2%

omega-9 acids

8.4%

C 16:0 palmitic acid

7.2%

C 18:1 oleic acid (cis isomer)

8.4%

C 18:2 linoleic acid

54.2%

C 18:3 alfa-linolenic acid

18.1%

C 18:3 gamma-linolenic acid

n.d.%

C 20:0 arachidic acid

1%

C 20:2 eicosandienoic acid

1.5%

C 20:3 eicosatrienoic acid

%

C 20:4 arachidonic acid

n.d.

C 20:5 eicosapentaenoic acid

n.d.

C 22:2 erucic acid

n.d.

C 22:2 docosadeinoic acid

n.d.

C 22:6 docosahexaenoic acid

n.d.
AMINO ACIDS

per 100g of product

Aspartic acid and Asparagine sum

4.84g

Serine

2.43g

Threonine

1.69g

Glutamic acid and Glutamine sum

8.02g

Proline

1.87g

Glycine

2.18g

Alanine

2.03g

Valine

2.33g

Methionine

0.86g

Isoleucine

1.84g

Leucine

3.15g

Tyrosine

1.49g

Phenylalanine

2.13g

Histidine

1.3g

Lysine

1.88g

Arginine

5.73g

Cystine

0.76g
Packaging Information
250g and 500g Pouches: Plastic-free and compostable. Made from kraft paper and corn starch. Zip-lock for easy resealing.
1kg Pouch: Eco kraft pouch, foil lined for optimal freshness. Recyclable outer. Zip-lock for easy resealing.
2.5kg Pouch: Omnidegradable (breaks down in any environment) kraft paper pouch. Compostable, breaks down leaving no microplastics. Zip-lock for easy resealing.
Labels: Made from matt-white uncoated wood-free paper, with acrylic based, pressure sensitive adhesive.
Customers who bought this item also bought...